We are extremely happy and to be honest, very amazed at how clever-responsive-adaptable and affectionate she is !!!
She is VERY clever !!
This cleverness may cause some issues (talking from prior experience with heading pups) later on, but I don't think with Belka this will be an issue.
Lena went for huge walk around hills today, and the "Weka interlude" happened when she got back.
It was extremely funny, Weka played ball with her - amazing really (must be the Sounds living makes it happen) :-))
So - in a nutshell - couldn't be happier !!!!!!!!
Cheers
Peter & Lena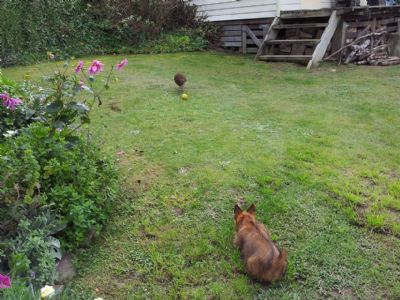 Hi Dianne,
Thought it about time that we let you know how Kim is doing.
We are really delighted with our new family member, she is full of life and has a delightful attitude and has certainly taken over our home, which we love.
It took her about three weeks to settle in and let us out of her sight for a time, if she is not with me she is with Barrie and in between she checks on the other, just to make sure that we are OK
She has the most delightful way of waking you in the morning, she comes up and quietly nuzzles your hair, then when you show signs of life, she flops and demands her tummy rubbed.
She has made friends with our neighbours cat,and while they were overseas the pair shared the furniture and also the bed.
Gets on well with other family dogs when we have family get together's which is just great.
We are well pleased and want to say thank you for raising a beautiful natured companion.
Also her brief encounter with a vehicle has made her traffic shy, which is great as living on the main road could have been a problem- she stays back from the gate and fence.
Cheers for now,
Dot ,Barrie & Kim. Merry Xmas and Happy New Year.