| | | |
| --- | --- | --- |
| | Tasdale Australian terriers & Irish terriers | |
My Background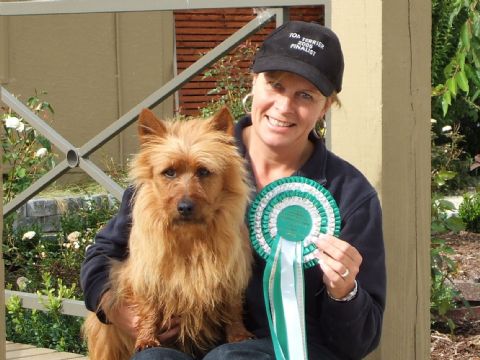 I have owned and bred Australian Terriers since 1977 when I was given my first Australian Terrier, a red bitch - Ch Lester Burgundy Girl. My whole family is involved in showing and breeding. My parents have owned, shown and bred Bull Terriers since 1963 under the prefix of "Brixton". My older sister breeds Corgis and owned West Highland Whites for a period of time, and my younger sister has Border Terriers, Boxers and has now taken over my parents Bull Terrier Kennels.
We all enjoy the camaraderie of the Dog Show world and spend many weekends at shows together. Apart from Australian Terriers I have also owned and/or bred Bull Terriers, Border Terriers, Lakeland Terriers, Irish Terriers & Boxers.
I have exported Australian Terriers to Australia
, the
USA
and
Finland.
I have been on the New Zealand Kennel Clubs Judges Panel since 1989, and am licensed to Judge Terriers, Gundogs, Utility and Non Sproting groups at Championship Show level. (I am an accredited ROM judge for Bull terriers)and I am on the Junior Handlers judging panel. I have judged in Australia
and the
USA
as well as here in
New Zealand.
I have held many positions in various dog clubs. I was the first Secretary of the Canterbury Junior Kennel Society between 1978 and 1980. I have been a committee member of the , the Australian Terrier Club – as well as Editor and President for a period. And committee member, Vice President, Secretary, and President during various periods, for the Canterbury Combined Terrier Club, committee member and vice President of the South Island Boxer Club and am the current President of the Canterbury Bull Terrier Club
My Husband John and I run a boarding kennels and cattery called Eyrewell Park in North Canterbury, We are lucky to live close to Forrest and River where our dogs love to run free through the bush or on the river bank.
I hope you enjoy my Home Page

Contact Details
Diane Riley
536 Bethels Road, RD7 Springston, Selwyn, NZ
Phone : 027 9379787
Email :

[email protected]

All Content Copyright
Dogz Online - Dogs, Breeders, Puppies